When one is diagnosed with a MTHFR mutation, the first thing typically prescribed is methylfolate – or, incorrectly, folic acid in high amounts.
There is no standard of care prescribing methylfolate for MTHFR mutations. Thus, the variation in prescriptions is vast – anywhere from nothing done upwards to Deplin 15 mg or Folic Acid 4 mg.

Update June 25, 2019:

There are many new updates to this article – including a new Folate blood test available 😉
There are a few issues regarding how much methylfolate to take:
Doctors are guessing how much methylfolate to give you
Doctors are giving high doses of methylfolate
Doctors should not prescribe high dose folic acid
Diet is commonly not evaluated
Supplements are commonly not evaluated
Lifestyle is not commonly evaluated
Environment (where you work, where you live, chemical exposures, occupation) is not commonly evaluated
Consider a Folate Blood Test
Folks, it's not even just about methylfolate – it's about other types as well.
There is a Folate Blood Test which evaluates levels of:

folic acid (which is also known as unmetabolized folic acid)
tetrahydrofolate (THF)
folinic acid
methylfolate

What is not tested is RBC Folate because RBC Folate is not stable. Labs that are testing for RBC folate must be asked how they can accurately measure it as it's so unstable.

If doctors order this folate lab test, folate dosing may be more targeted.

Caution:

I've had patients with low folate levels on labs (not done by Doctors Data) and the doctor prescribed higher and higher amounts of folate. The lab still showed low folate levels despite higher and higher dosing. The doctor kept increasing folate intake despite the patient becoming manic.

Moral of the story:

Do not use the lab markers over what you see or experience in the person – or yourself.
For those wanting to evaluate their various types of folate vs. just 'serum folate' which is almost worthless, I do recommend ordering the Folate Metabolism by Doctors Data
Who should order this Complete Folate Blood Test?
Those with MTHFR defects
Those who have signs of MTHFR mutations
Those who have signs of a Dirty MTHFR (as taken from the quiz section in the book, Dirty Genes.)
Those who want to see how their folate levels are truly doing
Those who want to experience a baseline in folate levels before switching away from folic acid to methylfolate.
Those who are simply curious and want to see the breakdown of their folate levels.
Where do I send my doctor to order this Folate Blood Test for me?
You send them to Doctors Data.
Stop guessing and identify if your folate levels are where they should be.
Be sure to tell your doctor about this test!
What to do about the lab findings?
I am not a proponent of blindly recommending supplementation even if the lab shows a deficiency is present. On the flip side, I am not a proponent of avoiding supplementation if a lab shows a normal or surplus amount is present.
One must evaluate the entire picture: labs, history, physical exam and desired outcome
A lab is supposed to help you understand what is going on. It is not dictating treatment.
This same thing goes for genetic testing.
Simply because you find out you have MTHFR mutations doesn't mean you need a bunch of methylfolate. The absence of MTHFR mutations doesn't mean you do not need methylfolate.
This is simply useful information you need to know and evaluate.
Possible Folate Lab Findings and What to Consider:
High Folic Acid:

identify sources of folic acid and remove.

supplements
processed foods
drinks
energy bars
medications

as you avoid folic acid, it will leave your body naturally over a period of a few days

Low Folic Acid:

Celebrate!
Your folate receptors and folate binding proteins are happy you're free of this artificial intruder.

High THF, High Folinic Acid, Low MTHF

This is the leftovers of methylfolate after the 'methyl' from the methylfolate is donated to homocysteine. THF also comes from other sources in your body. If your THF is high and your MTHF is low along with high Folinic Acid, it may be a sign you have some MTHFR sluggishness going on there.
You may need vitamin B2 as riboflavin as this is the cofactor for MTHFR
You may be taking folinic acid and not methylfolate.

High THF, Low Folinic Acid, Low MTHF

You may be limiting folate supplementation or intake of liver or leafy greens.
You may be eating or supplementing with folic acid.
There may be sluggishness in your MTHFD1, SHMT and MTHFR genes. These genes may be dirty.
This may be a result of low vitamin B6 and low riboflavin as these nutrients are cofactors for SHMT and MTHFR.
It's best to try and use the cofactors first before supplementing with methylfolate

Low THF, Low Folinic Acid, High MTHF

This may be a result of supplementing with methylfolate and not eating greens or liver.
The methylfolate cannot get through the MTR enzyme and donating the methyl from methylfolate to homocysteine.
Consider checking homocysteine.
This may be a result of 'Methyl Trapping'. You may need to open up the MTR gene which may be dirty – and it is easily dirtied. Vitamin B12 may be needed as well as liposomal glutathione or/and PQQ. The reason for liposomal glutathione and PQQ is because the MTR enzyme gets dirty from reactive oxygen species and these supplements remove them.
Which B12 to use? That's a tough question. For a potentially dirty MTR enzyme, I'd consider using Hydroxo-Adeno B12 over Methylcobalamin. Hydroxocobalamin helps clean up reactive oxygen species and adenosylcobalamin supports mitochondria.
If you don't want to support mitochondria right now, and if you don't do well with mitochondrial supplements, consider only Hydroxo B12
It's best to open up the MTR enzyme and clean up that dirty gene before supplementing with Folinic Acid.

Low THF, Low Folinic Acid and Low MTHF

Hmm..not eating any leafy greens, liver or supplementing?
Consider eating some grass fed beef/lamb/chicken liver
Greens can be hard for some people due to oxalates and other plant constituents
If you want to try supplementation, consider starting out with Folinic Acid as that is gentler than methylfolate for many people.  By using the Folinic Acid Lozenge, you're able to break it into smaller amounts and test. You may also place the full lozenge in your mouth. Let it dissolve slowly while tuning into how your head is feeling. If your head is becoming clear and mood improving, let it continue dissolving until you reach the point where 'That's enough!" is felt. Typically the improved mood and clarity will transition to anxiety if you're taking too much. Simply spit out the rest, note how much dissolved and take that much next time you feel the same way.
There are likely other scenarios as well but this gives you a great place to start.
Don't Want to Pay for a Lab Test?
Rather experiment to see how much Folate you need?
If you have been diagnosed with a MTHFR mutation, or even if not, and you want to try taking some folate, what I recommend trying to do is this:
Take small amounts of methylfolate along with methylcobalalmin and work up.
Consider taking 1/2 tablet of Active B12 with Methylfolate. This amount is typically well-tolerated by many.
Increase to a full tablet after 1 week.
Continue to increase the amount taken by 1/2 tablet every 7 days until you feel really good.
Once you feel good, stop taking it.
If you stop long enough and start feeling your old sluggish self coming back, then you know you need more methylfolate.
If you experience methylfolate side effects from taking Active B12 with Methylfolate, consider a lozenge of 50 mg Niacin. The niacin typically works really fast to neutralize the side effects.
I highly recommend getting both of these supplements at the same time in the event you need the niacin.
Work with your doctor on this and inform them what you are doing.
If you don't want to use Methylfolate, consider using Folinic Acid instead.
You may use the Folinic Acid Lozenge without vitamin B12 or you may want to use a combination of Folinic Acid with Hydroxocobalamin
Use the folinic acid as I described above. The same guidelines apply.
If you cannot tolerate any folate, consider reading this article on Preventing Methylfolate Side Effects
Long Term Solution for your MTHFR Mutation
Now that you realize you have to be careful with methylfolate, I'd really like to see you get on a full program vs just supplementing – and possibly making yourself worse.
Reading my book, Dirty Genes, will help you immensely.
You'll learn about MTHFR and how to use methylfolate in depth, yes, but you'll learn WAY more than that.
Empower yourself and take action the right way.
Dirty Genes is the guide you've been looking for.
It continues to be a bestseller month after month for good reason.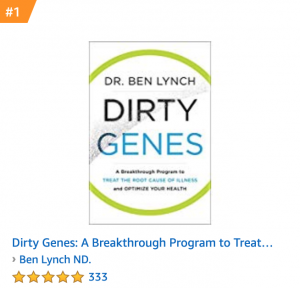 You'll see why once you pick it up and start reading 😉
—
Don't like reading books? Want to get more in depth and see how it all ties together?
Get access to the Dirty Genes Course where I discuss how food, lifestyle, environment, mindset and genetics are influencing how you're feeling – and how to deal with it all.
The Dirty Genes Course is where I bring in a lot of published research, translate it and make it actionable for you. It's an extension of the book, Dirty Genes. There is a lot of science, biochemistry and actual examples of how to use this stuff in your daily life.
Is it going to be over your head in terms of difficulty?
Absolutely not.
You'll learn a ton and you'll be amazed how easy it is to implement what you learn.