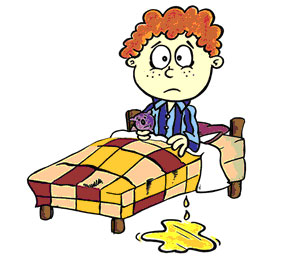 Bedwetting is Normal . . . to a Point
Diapers on newborns must be used because their nervous system is not yet fully developed.
As they progress in age and become little people, their nervous system is moving along nicely.
As children continue to grow and develop, the frequency of bedwetting goes down and eventually stops.
Why do some children continue bedwetting while others stop?
As with many things, there are numerous reasons why a single condition, such as bedwetting, can have multiple contributing causes. As with any condition, working with a health professional is highly recommended.
UPDATED: June 29, 2019
Slower central nervous system development
Food allergies
Infections (kidney or bladder)
Diabetes
Excess water consumption prior to bed
High histamine (increases sense of urgency and volume)
Scared of the dark
Sympathetic nervous system depleted (stress – frequent eye blinking is a possible sign)
Medication side effects
Caffeine (some give this to their kids – and I highly suggest not doing it – and it is also found in many sodas)
?
Common recommendations by me in the past to help resolve bedwetting are:
Identify food allergies and remove (gluten and dairy are big – increases histamine)
No caffeine
No sodas
Limit intake of water and fluids prior to bed
Always have them go pee right before bed
Use a blue LOW light night light (doesn't affect their melatonin levels)
No iPads or screens before bed or in bed
Fish oil
Multivitamin
Probiotic
Nothing remarkable there really but surprisingly, bedwetting resolves in many children using these techniques.
Bedwetting and New Research
Recently, I read a review from a mother discussing her experience with a multivitamin and bedwetting.
In her review, she linked to a research paper discussing bedwetting and folate/B12 levels.
I am quite thankful for her providing this link as I did not think about B12/folate and bedwetting.
Yet I should have.
First of all, thank you 'happymom' for providing this research link!
Secondly, I should have made the connection between bedwetting and B12/folate.
Why?
I already gave you a big hint above – and I already knew the answer – just from a limited perspective.
What was the hint?
Bedwetting occurs in those with delayed central nervous system development
All the reasons above about bedwetting are focused on WHAT contributes to bedwetting.
They do not delve into WHY some children continue to suffer from bedwetting (and parents as well).
Before we get into WHY, let's discuss what some researchers found.
The title of the 2012 paper identified by 'happymom' is called:
Decreased Vitamin B12 Levels in Children with Nocturnal Enuresis
(BTW – nocturnal enuresis is doctor-speak for bedwetting.)
It was a fairly small study (n = 61) yet areas did reach statistical significance.
The B12 levels were lower in the bedwetting group compared to the control group. This variable reached statistical significance (p = 0.003)
The mean folate levels were also lower in the bedwetting group compared to the control group. This variable did reach statistical significance (p = 0.025).
Low folate was also seen in two of the children in the bedwetting group compared to none in the control group; however, this did not reach statistical significance. If the study was larger, perhaps it would have reached significance.
Another study, a more current one (2015), looked at the relation between B12, folate and iron in children aged 6 to 12 with nocturnal enuresis.
They found similar results as the 2012 study:
low mean B12 in the bedwetting group compared to control
low mean folate in the bedwetting group compared to control
However, their study found that the low mean folate reached statistical significance but not the low mean B12.
This study was even smaller than the 2012 study so this makes it more difficult to reach statistical significance.
More studies are needed here – and I'd like them to evaluate a few genetic polymorphisms like MTHFR, PEMT, DAO, TCN2, COMT, FUT2 and some others.
In summary, both papers identified lower B12 and lower folate in children who are bedwetting compared to those who are not.

The question is: What do these results mean?
What two nutrients are critical for central nervous system development?
B12
Folate
What two nutrients are critical for methylation?
B12
Folate
What two nutrients were low in children with bedwetting?
B12
Folate
Duh.
How did I miss this?
Let's put it together:
A + B = C

A known cause of bedwetting is slower development of the central nervous system + low b12 and low folate contribute to a slowed central nervous system = increased susceptibility to nocturnal enuresis (ie. bedwetting).
If one has low folate and low B12, then their methylation system is going to be less functional.
As their methylation is not up to speed, then the development of the CNS is hindered.
As the CNS development is hindered, so is the nervous system of the bladder which leads to nocturnal enuresis.

Restoring nutrients for CNS development is critical to reducing bedwetting.
We can add these to parental patient history in order to evaluate potential B12/folate deficiencies:
"As a child, did you experience difficulties with bedwetting? If yes, what age did you stop?"
"How old is your child?"
"Does your child wet the bed at night fairly consistently?"
Side note:
There is family history in bedwetting. Since there is family history, it leads me to believe that there is some genetic component to it, yes?
Let's summarize the growth of a child and their demand on methylation:
The younger the child, the more development they are experiencing. The more development they are experiencing, the more methylation they are utilizing. The more methylation they are utilizing, the more nutrients they require to support methylation.
If the child's methylation is not supported with nutrients, then bedwetting may show up.
So simple!
Nutrients which support methylation are:
Folate (as methylfolate)
B12 (as methylcobalamin)
B6
B2 (supports MTHFR enzyme)
Zinc
Choline (from protein – esp eggs and shrimp)
Glycine (from protein)
Methionine (from protein)
Resources to identify foods which provide these nutrients:
Increased risks for methylation dysfunction in children:
Vegan
Vegetarian
Medications (antacids given to infants often…)
Limited protein intake (they need around 0.8 grams of protein per 2.2 lbs of body weight)
Limited vegetable consumption (provide folate and fiber)
Limited red meat intake (provides B12)
Limited healthy carbohydrate consumption (grains provide B2 and B6)
High refined carbohydrate consumption (low protein and fat intake)
Stress (uses up methylation nutrients faster)
Genetic polymorphisms (MTHFR, CBS, MTHFD1, DAO, COMT, MAO, MTRR, DHFR, and others)
Lab Tests to consider:
CBC with chem panel
serum folate (can show 'high' yet be 'low' functionally)
electrolytes
serum ferritin
serum cobalamin (can show 'high' yet be 'low' functionally)
urinary organic acids
plasma amino acids
urinary methylmalonic acid
whole blood histamine (maybe)
CDSA (if having digestive complaints)
homocysteine
genetic testing (possibly – only when ready mentally)
others which your doctor feels appropriate
Supplementation to consider supporting bedwetting:
(NOTE: This is not a list stating to take all.  They are options to consider with your health professional)
Success in resolving your child's bedwetting?!
Please share your story below. How did you resolve it?
Still struggling with resolving your child's bedwetting? 
Share your story below and also please follow up and let us know how these recommendations have helped!
I look forward to reading them!
PS – Bedwetting also occurs in adults. There are some additional reasons why adults suffer from bedwetting – but considering the above reasons may be a good place to start.
Additional Resource:
This pediatric clinic has a fantastic article on bedwetting. I do not agree with the use of medications, however. Not in this instance.
—-