UPDATE: June 25, 2019
MTHFR and pregnancy is a bigger deal than most doctors want to admit.
It's not a problem and it's not scary. It's something that you need to be aware of and address.
I'm glad you're here because you are aware that having MTHFR and pregnancy is a big deal.
What's really awesome is you can do something about it.
Finding out is the hard part.
Let's address it.
First off –
As a father:
I'm honored with three healthy and beautiful boys (I think so anyway), I know I am very fortunate. I am thankful for this each day and never take it for granted.
As a physician:
I've worked with many men and women who had been trying unsuccessfully to have a child. Some call this infertility. I don't like that label. You're not infertile. You're just not ready most likely and we can help you both get your body ready.
I've worked with many men and women who have children with significant birth defects or are somewhere on the spectrum. These parents are scared to have a second or third child. They are unsure what to do.
As a soccer coach:
I often have kids on my team who are struggling mentally and physically. It pains me because I know I can do something about it – and so do my boys. Yet the parents have no clue or no desire for alternatives beyond medications. Thankfully, some parents do and I've helped a few of these kids fully recover from frequent eye blinking, asthma, eczema, incessant fatigue, seizures, etc. It honestly didn't take much beyond what I share with you here.
My passion is to reduce the incidence of disease in unborn children.

Phrased another way, my passion is to optimize the lives of unborn children.

That includes your children.
This is what gets me up and out of bed and excited to go to 'work'.
Do you believe it is possible to reduce the incidence of disease or birth defects in unborn children?
Have you miscarried in the past or having difficulty with fertility?
Did you struggle with preeclampsia? Gallbladder problems? Water break early?
Have a child who is on the spectrum, spina bifida, hypospadia, tongue tie, congenital heart defects?
With the right preparation and tools, many of these can be avoided. The issue is you were never informed of this information before. It's not your fault. It's actually no ones fault.
What I'm sharing with you right now is literally cutting-edge information.
Many birth defects or significant pediatric conditions, even health problems later in life, are caused by inadequate nutrition before, during and after pregnancy.
This is a massive topic and one of extreme importance.
Before I go on and on about optimizing your pregnancy with the right prenatal vitamins and additional supplements, there are other factors that must be in play that go well beyond just swallowing pills.
Your pregnancy deserves to be optimal.
Here are two absolute must reads:
2 Must Read Books to Optimize MTHFR and Pregnancy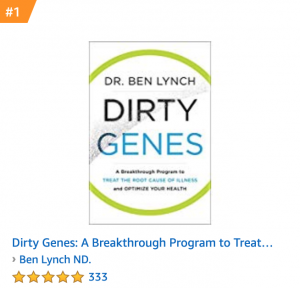 Why read Dirty Genes?
Pregnancy is a lot about methylation. This is why governments highly recommend folic acid so much. Folic acid is supposed to support methylation. The issue is it's not the best form of folate to use. The combination of MTHFR and pregnancy really stress the point that you should NOT use folic acid. I discuss this heavily in this book and why.
Many women and men have a MTHFR mutation – also called a MTHFR variant. It's not really a mutation. Your MTHFR gene still functions – just slower and is more susceptible to problems. Learn how to support your MTHFR gene – and again, having a MTHFR variant and being pregnant is very important to address. It's not hard – it's just new information and goes against most standards of care.
Not many people talk about the importance of other genes during pregnancy. Dirty Genes discusses a few other genes which are absolutely essential to be functioning at their best while pregnancy. PEMT, NOS3, DAO, GST/GPX are essential and I dedicate a chapter to each one. Then add in COMT and MAOA as they are impacting your neurotransmitters – and your hormones. So – essentially, Dirty Genes is a preconception health book.
Gallbladder issues during pregnancy – are a common issue and relates to methylation! Prevent it – and resolve it – and keep your gallbladder.
Pregnancy isn't just about supplementation and food. It's also about your environment, lifestyle and understanding what labs to order and which household products to use and avoid. This gets addressed.
Why read Real Food for Pregnancy?
Food is all our ancestors used to have healthy babies – and it worked. We're here. The difference is our ancestors used Real Food – not the food we have today. Learn which foods are essential to an optimal pregnancy, why and which ones aren't.
Addresses common complaints during pregnancy – nausea, vomiting, weight gain, gestational diabetes, blood pressure
How to exercise while pregnant
Which chemicals you need to avoid and where they exist
Tips on what to do for breastfeeding and postpartum
Your doctor recommend 4 mg of Folic Acid or Folic Acid generally?
This is 100% old school.
Yes, it is the current standard of care but do you want the standard of care or do you want better?
I want better and there is better – and it's not that hard at all to do better!
The standard of care does NOT address the combination of MTHFR and pregnancy.
If it did, the standards would change – or at least – they should change. They should change anyway as we have far superior forms of folate available.
In the video below, I share scientific evidence of why folic acid is inferior and give you alternatives to use and why you want to use them.
You'll need to dedicate 27 minutes to watching this video. If you don't have time now, share this to your Facebook page, Instagram or email it to yourself.
QUICK FACT: Only 15% of pregnant women have adequate choline levels!

If you're a vegan or vegetarian, you 100% have low choline levels.

This is shocking and must change.

This is why I highly recommend Optimal PC and Optimal Prenatal.

Choline is found in both.

Choline is a MAJOR methyl donor and used HEAVILY during pregnancy – and breastfeeding!
Prenatal Vitamins for MTHFR and Generally
There are very few prenatals that meet a high enough standard for me to recommend.
I had to formulate my own and it took me 3 years of research to do it.
Optimal Prenatal is the result.
Why did I have to formulate a new prenatal vitamin when there are already tons of prenatal vitamins?
Most use synthetic folic acid. This is NOT supportive for women having genetic problems in the folate pathway. In fact, it's potentially harmful.
If not using folic acid, they use only methylfolate. It's awesome finding prenatals that don't use folic acid at all! Truly! They use methylfolate instead. This is a step in the right direction! However, we have to do better. Having only methylfolate is not effective for those with methylation blockages. Methylfolate is needed to bypass the MTHFR mutation and support methylation. Folinic acid is needed to support DNA base production, DNA repair, ATP (energy) production, neurotransmitter formation. While methylfolate can turn into folinic acid, it's not that easy. Why? There are many environmental issues that can slow the conversion of methylfolate to folinic acid – and the conversion of folinic acid to methylfolate. So – use both.
Tablets. I am not a fan of tablets as they do not dissolve well in the digestive system. This means that the nutrients packed into tablets are typically not that bioavailable. When a manufacturing facility produces tablets, it literally sounds like a jackhammer. The force used to compress the nutrients into the stone-like tablet is tremendous. This is far from ideal when the goal is delivering nutrients.
Insufficient. The one-a-day prenatal or prenatal 'gummy' are great marketing schemes for women who dislike taking pills during pregnancy. I totally understand. My wife and I have three boys. I heard her mention MANY times that she didn't like taking the pills as they made her nauseated or were hard to swallow. (This is why I made the Optimal Prenatal Protein Powder. Only wish I made it 13 years ago…). The problem with too few capsules is the pregnant woman is not going to obtain adequate nutrition for HER and the developing BABY. Pregnancy is an extremely demanding time and demanding times require more nutrition. Period.
Vitamin and mineral forms are weak to worthless. There are certain forms which are more available than others. Folic acid is one such example. Why use folic acid when there are more bioavailable forms now – folinic acid and methylfolate? Price. That's the only reason. Using chelated minerals is way more effective than using minerals that are not bound to an amino acid. These chelated minerals are easier on the digestive system which means less constipation, less stomach aches, less nausea and more absorption in the blood. I could go on and on here but I will stop.
Proof Why Prenatal Vitamins Must Use Both Methylfolate and Folinic Acid
What you are seeing:
This is a slide from one of my conference presentations where I presented to a large group of health professionals. I informed them of the genetic and epigenetic issues surrounding pregnancy.
Folic acid is at the very top – and it has to go through ALL these genes in order to be turned into methylfolate.
The 'bubbles' are genes
Most of these researched genes are researched with neural tube defects and pregnancy complications.
Most of these researched genes have SNPs – like MTHFR
The green circles are pointing out the types of folate your body primarily uses. 5-FormylTHF = folinic acid and 5-MTHF = methylfolate.
If you have genetic or epigenetic issues, which many of us do, don't use folic acid.
Take a prenatal that combines these active folates – both of them. This is not a slight recommendation. It's a massive one.
Genetic SNPs in your Folate Pathway
Here are examples of 3 real people.
They first ordered a genetic test from Ancestry or 23andme. Then they took their raw data and ran it into StrateGene which then generated this report.
They found out which Folate SNPs they have.
Is this scary information?
No. It's not.
It's information that really informs you of how careful you need to be about avoiding folic acid, your susceptibilities and how you should focus food choices.
What do these mean and what to do about it:
In short, it means avoid folic acid and use real folates.
It also means that one cannot use folic acid in their prenatal vitamins.
It also means that you cannot just use methylfolate in your prenatal vitamins.
Here's what it means specifically:
Reduced ability to transport folate due to SLC genetic variation. If taking folic acid, then their folate binding proteins may be gummed up and lead to issues. Solution: Avoid folic acid seriously, consume leafy greens, liver and supplement with real folates as needed.
Reduced ability to convert an early form of folate into active folates. Solution: more important to avoid folic acid, consume leafy greens, liver and supplement with real folates as needed.
Reduced ability to make methylfolate due to MTHFR variation. Solution: avoid folic acid, consume more folate rich foods like leafy greens, liver and supplement as needed.
The following are the prenatal vitamins I formulated based on my years of research.
To give you some perspective, it took me three years to formulate these. I did not rush it. A prenatal is far too important to rush.
Optimal Prenatal: provides 800 mcg of combined methylfolate and folinic acid for best folate support. Using only methylfolate in a prenatal is not recommended. This is iron-free. It is iron-free because iron competes with calcium and also many women need varying amounts of iron during pregnancy. Some need none and some need quite a bit. Use Optimal Iron Chewable for a well-tolerated iron supplement. I designed this for my wife as she couldn't tolerate any iron. Thankfully this one she does.
Optimal Prenatal with Plant-Based Protein: provides the same nutrients as above in a complete protein smoothie. Simply add a scoop of this to your morning smoothie and you're done with your prenatal. It takes more than vitamins and minerals to have a healthy pregnancy. It also requires adequate protein. This prenatal protein powder also provides additional nutrients such as L-carnitine (which the capsules do not).
MTHFR and Pregnancy is not just about Prenatal Vitamins
Both men and women must prepare not only with vitamins and minerals – but also fish oil, probiotics, vitamin D, iron (amount varies), electrolytes and choline.
Here is The Optimal Way to support preconception, pregnancy and breastfeeding:
Optimal Prenatal or Optimal Prenatal Protein Powder.

I prefer the Optimal Prenatal Protein Powder because it is so comprehensive, easy to make and one is more likely to get all their vitamins and minerals for the day in a single smoothie.
The Optimal Prenatal capsules are great, too, but more work to remember.

Optimal PC or Optimal PC Liquid 

Since only 15% of pregnant women have adequate choline levels, I truly believe all women need to be supplementing with choline. This is VERY important to take all throughout pregnancy and breastfeeding. Use the liquid form if you are vegan or vegetarian as the capsules are made from gelatin.

Optimal Fish Oil

EPA and DHA are critical for healthy membranes. Again, I believe this one is critical as most people are deficient in these nutrients.

Optimal Vitamin D Drops

This is still a major deficiency for most people. During pregnancy and breast feeding, it is recommended to take a minimum of 6,000 IU a day and up to 10,000 IU a day. Optimal Vitamin D provides 2,000 IU per DROP and may be taken once a week. You can take 3 drops x 7 days = 21 drops once a week and then not take it again until end of next week. Of course, you need to discuss this with your physician – along with all the other recommendations.

ProBiota HistaminX

Supporting the microbiome is key for both baby and mother. Research is proving over and over that a healthy microbiome is supportive to the developing baby in many ways. It's not just with any probiotics but ideally those that support a reduction in histamine. Pregnancy is a time when histamine levels must be low as high histamine levels are associated with pregnancy complications. ProBiota HistaminX uses strains of probiotics which are known to break down histamine and also do not increase levels of histamine. Some probiotics actually increase histamine and these should be avoided during pregnancy.

Optimal Iron Chewable

Iron is not included in the prenatal vitamins because women vary in the amount of iron they need and when they need it. Taking too much iron during pregnancy is a common risk factor for gestational diabetes or other pregnancy related complications.
These 6 supplements are the most critical for MTHFR and pregnancy and pregnancy in general.
Keep in mind that prenatal supplementation is also needed during breastfeeding.
Why?
You are still nourishing yourself and your beautiful baby.
If you stop nourishing yourself, you will become depleted, possibly depressed and baby will potentially have methylation dysfunction.
These are things we must avoid.
Big Breastfeeding Tip:
If you struggle with mastitis or pains when breastfeeding, it may be due to low choline levels. By supplementing with Optimal PC, you increase your phosphatidylcholine levels which allow your milk to flow much easier. So many women report a complete resolution in painful breastfeeding when using choline or lecithin. Phosphatidylcholine is superior to lecithin so using Optimal PC while breastfeeding is key!
DOES THIS MTHFR and PREGNANCY PROTOCOL WORK?
Yes! For many.
I would LOVE to hear how this prenatal supplementation protocol has helped you throughout pregnancy and during breast feeding.
I received this amazing comment today via Facebook:
I used this protocol after 4 miscarriages and am now 32 weeks pregnant with our little angel! Your work is inspiring and amazing!
How has it worked for you? Please do comment and share!
Others need to experience a healthy and rewarding pregnancy – and the little stinkers after they are born!
Disclaimer: The information and product suggestions presented here are merely suggestions for you to consider. This information is not a prescription, treatment or diagnosis. Follow the suggestions and use the suggested supplements at your own risk. It is highly recommended that you discuss this information with your physician. Always seek the advice from your healthcare professional.