DNA testing is the new trend and everyone seems to peeking into what their DNA results uncover.
Obviously, I am a proponent of genetic testing – when used correctly.
When DNA testing is done improperly, people are finding inconsistencies. This leads to frustration, doubt, FDA crackdowns and a threat to future DNA testing.
After months of reading all the negative talk about 23andMe and other genetic testing companies, today is the day I had enough.
Let's get started.
We must first define where people are finding inconsistencies in their DNA testing.

Is it in the testing itself or in the interpretation of the findings?
From what I have seen, the testing itself appears to be solid. The issues are in the interpretation.
DNA testing companies are trying to provide a service to the public. While this is a noble – and intelligent business move in terms of gaining revenue – it is also fraught with FDA regulatory issues and blatant inconsistencies in the interpretations.
23andMe has been all over the news recently due to the FDA cracking down on how 23andMe displays the individual's genetic findings in what they call 'Health Traits.'  Below, you see what 23andMe found in this person's DNA test results – or I should accurately state: Below is what 23andMe interpreted based on the customer's DNA test results: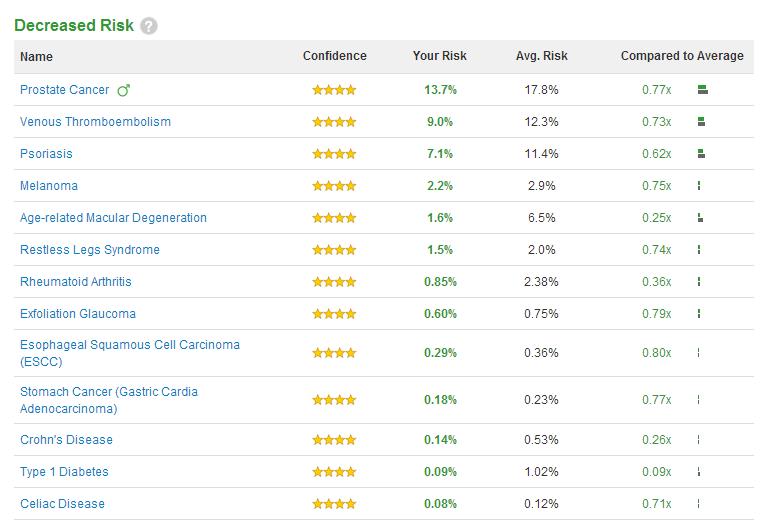 Where did 23andMe obtain this information? How do they know for sure that this person's prostate cancer risk is 13.7% and below average risk?
Research.
For the sake of ease, let's continue digging into prostate cancer as an example.
There are many causes for prostate cancer
environmental
lifestyle
genetic
dietary
What does 23andMe provide – or any other DNA testing lab company?
A glimpse into an individual's genetic code. They do not do full sequencing of the human genome – and even if they did, there would still be discrepancies in the interpretation thereby rendering it worthless to the average person.
When evaluating risk for a certain condition, one must evaluate all causes and not just genetics.
Genetic companies attempt to inform their customers with health traits and disease risks in a nicely presented fashion because that is what sells – people want easy. It is easy to look at a table such as the one above and think, "I have a decreased risk of prostate cancer. That's cool."
The issue is the research on genetic causes of disease are massively conflicting and this is why genetic testing companies vary in their interpretations of your data.
One research company may look at a certain set of genes for a given condition and another research company reviews another set of genes. Obviously, the genetic findings in this case will vary.
Let's play devil's advocate.
Let's say all research companies evaluate the same set of genes for one specific condition yet their interpretations still vary.

Why would that happen!?
A couple big reasons.
No genetic company is evaluating your lifestyle, dietary intake, environmental exposures, in utero exposures, in utero nutrition, full details on the first few years of your life (which are the most susceptible to establishing your immune and neurological system). That said, how can any genetic lab testing company firmly establish overall risk to a specific disease or health condition? They cannot.
Research looks at a certain limited number of variables because they have to restrict the variables in order to analyze them. The limitation of variables in of itself a hindrance to accurate findings. Research may be looking at a few genes in order to determine a genetic predisposition, but that is not how the body works. It requires, most commonly, a number of genetic polymorphisms along with diet, lifestyle and environmental exposures in order for an individual to begin expressing a disease state. Of course, there are some genetic polymorphisms which are quite significant, such as MTHFR C677T, but even this may be bypassed through a healthy lifestyle, diet and environment.
What did 23andMe look at in order to determine this person had a decreased risk of prostate cancer? They looked at this:
Gene or region: 8q24 (region 1)
SNP: rs1447295
That's it.
They looked at one specific area of one gene.
They did not look at the person's:
possible inability to eliminate cadmium – which is a risk for prostate cancer.
ability to reduce free radical damage or inflammation – both of which are risks for prostate cancers.
dietary intake – which is a risk for prostate cancer especially if they eat grilled meats.
nutritional profile – which is a risk for prostate cancer especially if deficient in zinc or selenium.
So what to do? What to believe?
Understand what you are getting when you order a DNA testing kit.
You are getting a glimpse of your DNA – not all of it – not even close – just a snapshot.
In order to find gold in your DNA test results, you have to dig for it in what they call your 'raw data'
You can browse the 23andMe raw data for a specific gene or for a specific SNP to see what you have. The issue is then you have to translate that to understand if you have the wild type (normal) or risk allele. Then, you have to understand what this gene actually does, how it is affected by the environment, medications, lifestyle habits, nutrients and your dietary intake to name a few.
To compound the problem, then you have to understand how this particular gene or SNP interacts with naturally occurring hormones, neurotransmitters and other genes.
Standard medicine looks at us from a very segmented approach which is hugely ineffective.
When you have heart troubles, you see a cardiologist.
When you have skin troubles, you see a dermatologist.
When you have digestive issues, you see a gastroenterologist.
Obviously, well, it should be, this form of medicine is ineffective as our cells communicate with each other from all areas of our body. We are not compartmentalized.  Be nice if we were – and once again – this is a business decision and a way to standardize medicine. It is not in your best interest.
There is some good news.
You now realize what I spend many hours a day on – analyzing all these interactions – between genes, nutrients, hormones, environmental toxins, dietary intake, lifestyles and so on. I integrate them and then present my findings to physicians worldwide.
These physicians then more accurately understand how to integrate your genetic test results with your complete history
Bottom line question: Is DNA testing worth it?

Absolutely – when analyzed properly.
What do I recommend for DNA testing now that 23andMe no longer has their Health Traits available?
I find the Health Traits to be misleading anyhow – as does the FDA. By now, you should understand why I feel this way. I hope you feel the same.
Once you get your 23andMe test results back, what you want to do is go right to your raw data and export it into a program called StrateGene.
While the StrateGene is still Greek to many, it does provide some key genes and their associated SNPs which you then can further read about and analyze with your doctor – who, hopefully, has some training in this area of medicine.
More and more doctors are receiving training in this area and as they do, I will be posting them here on MTHFR.Net and on SeekingHealth.org
I sincerely hope that this has clarified the inconsistent findings of DNA testing – and at the same time, does not prevent you from evaluating your DNA results with your doctor. When your DNA test results are analyzed along with your complete history, lifestyle, diet, environmental exposures and labs, amazing things may happen.
May those amazing things happen to you and your loved ones.