There is little known about the A1298C MTHFR mutation.
Or so it seems.
Research seems to ignore it almost completely while the C677T MTHFR mutation gets all the attention and glory.
For those who have the A1298C MTHFR mutation, this is frustrating.
Symptoms exist and doctors are saying there is no correlation between the MTHFR A1298C mutation and your symptoms – right?
I'd like to prove them wrong – at least for the symptoms which do correlate with the A1298C MTHFR mutation.
Lets' get started.
The MTHFR A1298C mutation may affect you if you are either:
Homozygous A1298C MTHFR mutation
Compound heterozygous A1298C + C677T MTHFR mutation (like me)
My current stance on the heterozygous MTHFR A1298C mutation is that it is very common and does not seem to pose too much concern unless there are other methylation or cytochrome mutations present. Obviously, if one leads a lifestyle which is unhealthy (smoking, high stress, toxic exposures) and consumes an unhealthy diet (refined carbs, processed meats, saturated fats), then having a heterozygous A1298C mutation may contribute to cardiovascular disease, depression, fibromyalgia and others.
Anyone with or without any MTHFR mutations can still have what I call a 'Dirty MTHFR' gene.
Learn how to clean up your Dirty MTHFR gene by reading Dirty Genes
Ever hear this?:
Your homocysteine levels are fine. You've nothing to worry about.
I know many doctors evaluate homocysteine only when it comes to MTHFR mutations.
This is absolutely incorrect.
Regardless of which snp you have, either the 677 or 1298, the MTHFR enzyme's end product, methylfolate, supports two major pathways: BH4 and Methylation.
BH4 regeneration is supported by methylfolate and SAM.
Some people say that BH4 regeneration is only done by those having the MTHFR A1298C snp – and not those with the MTHFR C677T snps.
This is incorrect.
There is not one study that shows biopterin recycling is limited to those with A1298C compared to those with C677T.
In fact, lower tetrahydrabiopterin levels are likely found more frequently in those with the 677 variant compared to the 1298. Why? Because the MTHFR 677 variant is more severe than the 1298.
The BH4 cycle is absolutely critical for these various functions:
assists the breakdown of phenylalanine
helps form these neurotransmitters:

Serotonin
Melatonin
Dopamine
Norepinephrine (noradrenaline)
Epinephrine (adrenaline)

cofactor to produce Nitric Oxide (NO)
Does one see only elevated homocysteine in those with the C677T MTHFR mutation and only mood disorders in those with A1298C MTHFR?
No.
If your BH4 cycle is not working properly due to a MTHFR mutation, you are definitely going to be expressing some symptoms either mentally, emotionally or physically – or – all together.
Once you understand the biochemical effects the MTHFR mutation causes, it becomes easy to identify possible problems.
I am going to list possible symptoms, signs and conditions associated with MTHFR mutations. Keep in mind this is not a comprehensive list. I will add to it as I think of more (or you inform me of ones that I have omitted).
There is a MTHFR Quiz in the book, Dirty Genes, which will show you if your MTHFR gene is acting dirty or not. Then it will provide you methods to clean it up.
Possible symptoms associated with A1298C MTHFR mutations:
hypertension
delayed speech
muscle pain
insomnia
irritable bowel syndrome
fibromyalgia
chronic fatigue syndrome
hand tremor
memory loss
headaches
brain fog
Possible signs associated with A1298C MTHFR Mutations:
elevated ammonia levels
decreased dopamine
decrease serotonin
decreased epinephrine and norepinephrine
decreased nitric oxide
elevated blood pressure
muscle tenderness
ulcers
pre-eclampsia
Possible conditions associated with A1298C MTHFR mutations:
fibromyalgia
chronic fatigue syndrome
autism
depression
insomnia
ADD/ADHD
irritable bowel syndrome
inflammatory bowel syndrome
erectile dysfunction
migraine
Raynaud's
cancer
Alzheimer's
Parkinson's
recurrent miscarriages
There are certain dietary, lifestyle and supplemental recommendations that help reduce the effects of the A1298C MTHFR mutation.
That is well beyond the scope of this article. Again, I address this heavily in the book, Dirty Genes. I don't mean to belabor that point but it is after all a book while this is an article.
There are a few nuances making it difficult to simply give flat recommendations for all who live with the A1298C MTHFR mutation.
Remember, if you are homozygous A1298C or compound heterozygous MTHFR, the likelihood of your family members also having MTHFR mutations is very high.
Get them tested!
Again, a single copy of A1298C MTHFR does not appear to be harmful unless it is combined with the C677T MTHFR snp – known as compound heterozygous.
For now, I hope this is useful for you and has shed some light into your situation.
Long Term Solution for your MTHFR A1298C Mutation
Now that you realize that despite doctors saying your MTHFR A1298C mutation is not significant, it actually may be. It's not just about one gene in your body causing issues. It's about how your genes communicate with each other.
Who is in control of how your genes are working from moment to moment?
You are.
I'd really like to see you get on a full program vs just running about and scouring the internet for useful tidbits of information.
I know that can be useful at times – and it led you to here. Now I highly encourage you to stop browsing.
You found what you needed.
I've been studying, researching, treating and educating health professionals, medical associations and the public about MTHFR since 2011.
Reading my book, Dirty Genes, will help you immensely.
You'll learn about MTHFR and how to use methylfolate in depth, yes, but you'll learn WAY more than that.
Empower yourself and take action the right way.
Dirty Genes is the guide you've been looking for.
It continues to be a bestseller month after month for good reason.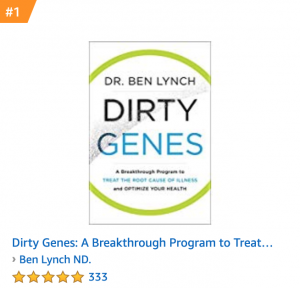 You'll see why once you pick it up and start reading 😉
—
Don't like reading books? Want to get more in depth and see how it all ties together?
Get access to the Dirty Genes Course where I discuss how food, lifestyle, environment, mindset and genetics are influencing how you're feeling – and how to deal with it all.
The Dirty Genes Course is where I bring in a lot of published research, translate it and make it actionable for you. It's an extension of the book, Dirty Genes. There is a lot of science, biochemistry and actual examples of how to use this stuff in your daily life.
Is it going to be over your head in terms of difficulty?
Absolutely not.
You'll learn a ton and you'll be amazed how easy it is to implement what you learn.