I am going to share with you a classic situation which happens all the time.
I hear it a few times a week while working with clients and guiding various doctors.
This case study shows how fast methylation can become imbalanced – and how fast it can be rebalanced.
It also shows how sensitive methylation is – and how careful one must be with it.
I encourage you to not alter your physician's treatment plan without discussing with them first – and obtaining approval.
Here is a short case study demonstrating the speed and sensitivity of methylation:
A gentleman with MTHFR homozygous C677T, in his 60's, is experiencing symptoms of depression and fatigue.
Yesterday, I consulted with him for the first time.
His physician prescribed Wellbutrin, Armour Thyroid and Arimidex.
Then, his physician prescribed methylfolate without tapering down the medications.
As expected, the methylfolate definitely began working – too well.
Here is some of our dialogue via email:
Dr Lynch – June 25, 2:46 PM:  I think you are going to have to taper down on your thyroid, Arimidex and Wellbutrin once you begin methylation. You'll have to have your physician monitor and help you with this.

Client – June 26, 2:55 PM: I stopped the methylfolate and B12 yesterday afternoon and took 500 mg niacin and I feel pretty down and foggy today – and nauseous.

Dr Lynch – June 26, 2:55 PM: 500 mg of niacin is quite a bit – I typically suggest people start with 1/10th of that – 50 mg. Get back on the methylfolate and B12 and stop the niacin – appears you are undermethylated.

Client – June 27, 4:03 PM: Well if I wasn't a believer before I am now! I felt better almost immediately after restarting the methylfolate at 400 mcg. This morning I felt a bit anxious so I took 50 mg niacin and felt calmer within the hour.

I spoke with my psychiatrist this morning and he said that the methylfolate will boost the effectiveness of the Wellbutrin, but I suspect that it's reacting more with the Armour and making me hyperthyroid. That's easy to test though so if it persists I'll do a lab to see.
What is going on here?
This is a classic balancing act between how much methylation is ideal.
You can see exactly how fast the balance can shift.
First, the client is obviously undermethylated due to his symptoms so his doctor appropriately addressed it through prescribing methylfolate and methylcobalamin.
The only issue is the doctor did not realize how effective methylation is at supporting neurotransmitters and thyroid hormone production.
So what happened is the gentleman decided to skip his methylfolate and methylcobalamin dose, take a lot of niacin (which is a methyl 'sponge') and he immediately tanked his methyl groups which caused symptoms of undermethylation.
Then, upon restarting the methylfolate and methylcobalamin, and maintaining his current dosage of medications, he felt great for a few hours.
Then anxiety hit due to excessive neurotransmitter production and likely thyroid hormone production.
So – in order to quiet those symptoms, I told him about how niacin works and how to take it and his anxiety decreased almost immediately.
My point:
There is no set MTHFR protocol for anyone.
Genetics, lifestyle, diet, medications all play a role in how much methylfolate and methylcobalamin are needed – and these amount can change daily as well.
Finding a doctor that understands this is critical – or you will have a difficult time regaining health – and maintaining it.
Why Niacin??!
You're likely wondering why niacin was so effective at reducing this gentleman's anxiety.
I'll let you in on the secret and wonderful actions of biochemistry.
Niacin restored his mood in two ways – at least the two three ways that I am familiar with:
Nicotinic acid (Niacin USP) requires SAMe to be metabolized. SAMe is a major methyl donor. Thus, when one consumes niacin, SAMe gets used up and methyl donors drop. Thereby excessive methylation goes away.
Nicotinic acid also supports the elimination of glutamate. Many with elevated levels of glutamate do not do well with methylfolate or any type of folate until the levels of glutamate are balanced.
Niacin supports the feedback inhibition of the IDO1 gene which feeds into the kyurenine pathway. This pathway can deplete one's tryptophan levels which makes them low in serotonin. The niacin slows the loss of tryptophan by pushing it towards serotonin formation.
Long Term Solution for your Methylation
Now that you realize that balancing methylation is touchy, I'd really like to see you get on a full program.
Reading my book, Dirty Genes, will help you immensely.
You'll learn about MTHFR and how to use methylfolate in depth, yes, but you'll learn WAY more than that.
Empower yourself and take action the right way.
Dirty Genes is the guide you've been looking for.
It continues to be a bestseller month after month for good reason.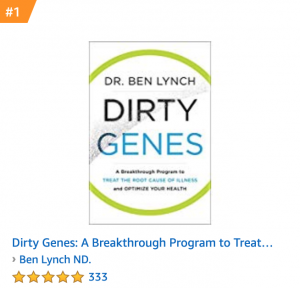 You'll see why once you pick it up and start reading 😉
—
Don't like reading books? Want to get more in depth and see how it all ties together?
Get access to the Dirty Genes Course where I discuss how food, lifestyle, environment, mindset and genetics are influencing how you're feeling – and how to deal with it all.
The Dirty Genes Course is where I bring in a lot of published research, translate it and make it actionable for you. It's an extension of the book, Dirty Genes. There is a lot of science, biochemistry and actual examples of how to use this stuff in your daily life.
Is it going to be over your head in terms of difficulty?
Absolutely not.
You'll learn a ton and you'll be amazed how easy it is to implement what you learn.
Comments welcomed below.
Share your stories and experiences of undermethylation and overmethylation.