How is that the path we take in life is somehow absolutely appropriate and fitting for us?
Becoming a naturopathic physician with a specialty in environmental medicine and nutrigenomics, I am stunned at how critical this path was for me – and for my family.
If I had not chosen this path, two of my boys would most likely be quite autistic, my wife would be suffering from rheumatoid arthritis and my health would have been severely compromised.
As one who has spent a lot of time with MTHFR research and working with countless clients with MTHFR, I can safely say I am quite well-versed in MTHFR mutations.
I was waiting until my new comprehensive genetic test was nearly completed before I tested myself and my family for MTHFR.
As I nervously opened the genetic reports for each member of my family, I was blown away. (I am glad I was on vacation when I opened these documents.)
Theodor Lynch, Male, Age 3: Homozygous A1298C
Mathew Lynch, Male, Age 6: Heterozygous A1298C + Heterozygous C677T
Tasman Lynch, Male, Age 9, Heterozygous A1298C
Nadia Lynch, Female, Age 35, Heterozygous A1298C
Benjamin Lynch, Male, Age 38, Heterozygous A1298C + Heterozygous C677T
My mindset totally shifted from simply being a father to suddenly being my childrens' guide and physician. Without my assistance, their future is grim.
"Oh, shit."
Yes. Those were the exact words when I saw Theodor's and Mathew's test results.
A million concerns ran through my head wondering what I should do.
Then, I realized something.
"I'm already doing something for them – many 'somethings'."
Gluten Free Diet
Dairy Free Diet
Probiotics
Sauna for whole family at least 20 times a year
Filtered water
No carpets in the house
Air purification
Organic food
Very limited processed foods
No artificial soaps, odors, perfumes
No cleaning solutions – just natural soaps, vinegar
Limited pressboard in our home
Organic bedding and mattresses
Multivitamin with methylfolate, pure fish oil, CoQ10, Cal/Mag, vitamin D3
Limited sugar intake
No soda
Highly active in sports and outdoors for all of us
Studying piano
Speaking and learning Russian
All of these are critical to treating MTHFR mutations.
Many doctors typically tell their patients with newly diagnosed MTHFR mutations:
"Take 5 mg of folic acid a day and you'll be fine."
"MTHFR is nothing to worry about."
"Take 1 x 15 mg Deplin daily and you'll be great."
"Take NeevoDHA while pregnant along with Lovenox and all will be great."
All of these recommendations are wrong – in my opinion.
If you are not doing 1 through 16 above, then you are not fully addressing your MTHFR mutation.
Let me give you some more background: 
Both Mathew and Theo were slow to speak yet are quite healthy overall.
Mathew's speech is now fantastic yet he has an accent – I believe this comes from his mother's thick Russian accent. She was his one and only person to interact with – well – besides his older brother.  I was not around in his younger years (medical school is extremely demanding for 5 years). Then add on the fact that Mathew was not in an English speaking daycare/preschool until later.
Slow speech can be attributed to a few things in Mathew's and Theo's life:
We're a bilingual family: Russian and English
Summers spent in Russia during critical language development (no English spoken).
MTHFR, PEMT and GAMT mutations
Me having been in medical school and not around much to interact with my children.
Not starting an English preschool or interaction with many other English speaking children until later – age 5 for Mathew. Theodor is in Russian preschool now.
I smiled when I saw my wife's MTHFR results.
I test her for everything and she nearly always comes back squeaky clean yet she suffered terribly with Rheumatoid Arthritis from the young age of 17 until 31.
She now is literally 'normal' and living life without rheumatoid arthritis.
How?
Lifestyle, diet and supplements.
Medications? NONE.
"Is that right?"
These were the words I internally said to myself as I stared at the lab report for Benjamin Lynch.
1 copy of A1298C and 1 copy of C677T
I was amazingly calm but confused.
How come I am not showing more symptoms?
I used to – in a big way.
Chronic fatigue
Chemically sensitive
Skin rashes
Always low WBC levels
I now follow points 1 to 17 on the above list and have been for years. This is why I show no symptoms.
In a nutshell:
MTHFR mutations do not control you. You control them.
I, and my family, are living proof that you can beat MTHFR mutations through proper lifestyle, diet and supplementation – and mindset.
How much methylfolate are we all taking?
None of us are taking more than 400 mcg a day currently.
MTHFR is not about methylfolate.
MTHFR mutations demand a healthy lifestyle and some methylfolate.
I'm sorry.
There is no pill for MTHFR.
There is no surgery for MTHFR.
What there is for MTHFR is work and awareness.
If you respect what you put into your body and what is around it, you'll lead a healthy life.
Now – it is not always this easy.
Why not?
Because there are other potential mutations which increase the severity of the MTHFR mutation.
COMT, VDR, CBS, MTR/MTRR, BHMT, MAO A, DHPR, SUOX, SOD, GST, NOS – to name a few.
Main point I want to leave you with though is you control your genetics.
They do not control you.
See Theo celebrate!!

He doesn't care he has the MTHFR A1298C homozygous variant!!! 🙂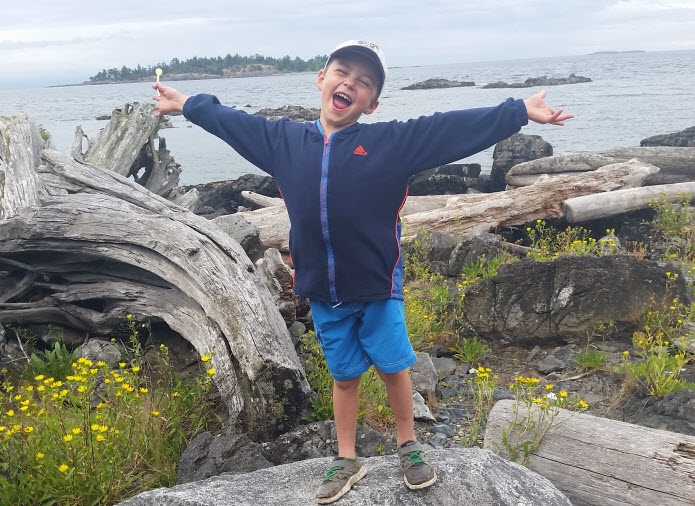 Conclusion
Start your MTHFR journey by reading Dirty Genes.
It is the place to start. So many people have experienced tremendous results and above all – clarity and empowerment.
The above recommendations will help a many individuals who have heterozygous and homozygous MTHFR mutations.
Take it a step further by gaining access to the Dirty Genes Course.
"If you're willing to put in the work to make the lifestyle changes, this course provides immediately actionable information. Dr. Ben Lynch connects the dots between the environmental and how genes express. I appreciate that there's a PDF of the slide set that you can download to follow along, or for further research. The course in set up in sections that are manageable, followed by quizzes to ensure you understand the information. The bonus of access to the Facebook group is a valuable resource. Thank you Dr. Ben Lynch for putting your heart and soul into what you teach."